2016 Support the Valentine Donor Appeal
For more information email us at jjex@valentinetheatre.com.
The Valentine's Leading Role
Toledo's 120-year-old Valentine Theatre is a cultural treasure with a rich theatrical history that continues to evolve and enliven us. Beautifully renovated and reopened in 1999, this storied performing arts venue embraces diversity in providing a varied repertoire of local, national, and international productions—from modern dance to classical ballet, from symphonic music to sizzling jazz, from children's musicals to popular comedy revues.
The Valentine plays a principal part in the on-going economic and cultural revitalization of downtown Toledo and in enriching the quality of life throughout northwest Ohio and southeast Michigan. The performing arts build community identity and pride, encouraging cultural diversity and its appreciation. Please join us in our mission by supporting this important annual campaign.
Bringing Educational and Community Outreach Center Stage
Equally, if not more, compelling is the impact performing arts have on our youth. The arts stimulate creative and independent thought-processes, teach teamwork and tolerance, and raise self-esteem.
In today's uncertain economic times, many families struggle to make ends meet and schools vastly cut back on arts education. The Valentine's capacity as a community resource offers opportunities that encourage the development of talent and ingenuity. An esteemed artsorganization committed to fostering educational and cultural enrichment, The Valentine is reaching out to young children, students, at-risk youth, and disadvantaged families in providing a wide variety of engaging, high-caliber arts experiences:
Children's Series – Five classic musical tales in children's literature are brought to life by professional theatre troupes. The series attracts over 5,000 people yearly.


School Days - A unique curriculum-based theatre arts education program open to preschoolers and K-12 students throughout the greater Toledo area. This venture brings professional troupes to our stage in educational productions. Thousands of students have attended since the program's inception.


Master Classes – Accomplished performers take on a mentor role in providing up-close instruction to area students. The 2012-2013 season featured master classes by the acclaimed Paul Taylor 2 Dance Company and The National Players, and invited students to attend rehearsals by the eminent Russian National Ballet and the award-winning Kronos Quartet. In 2014 and 2015 students had the opportunity to study with the Russian Ballet.


Creative Partnerships – When you support The Valentine, you also champion a cross section of local cultural and performing arts groups working in partnership withThe Valentine to further the arts. These include: The Toledo Repertoire Theatre, Toledo Opera, Toledo Ballet, Ballet Theatre of Toledo, Toledo Jazz Orchestra, Toledo School for the Arts, Central Catholic High School, St. John's Jesuit High School, Toledo Symphony Orchestra, and Masterworks Chorale.


Discounted Tickets – In support of their invaluable work, The Valentine provides theatre tickets at a reduced cost to local social-service agencies and educational institutions such as Big Brothers /Big Sisters, Lucas County Children's Services, Lucas County Board of Developmental Disabilities, Toledo School for the Arts, Toledo Public Schools, Family Center on Domestic Violence, The Armed Forces, Girl Scouts, Easter Seals, and The United Way.
Call for Support
The Valentine is proud of its thousands of patrons—many of them students— who attend performances each year. Unfortunately, it takes more than event revenue to keep this historic icon operational. Today, ticket sales cover only 60 percent of our annual expenses.
Funding provided by foundations, corporations, and small businesses is greatly appreciated, but donations from generous patrons like you are the lifeblood of The Valentine. In reaching deep into your pockets, you set the stage for our success in reaching out to the community, both as an entertainment venue and as a resource for educational and cultural enrichment.
Member Levels & Benefits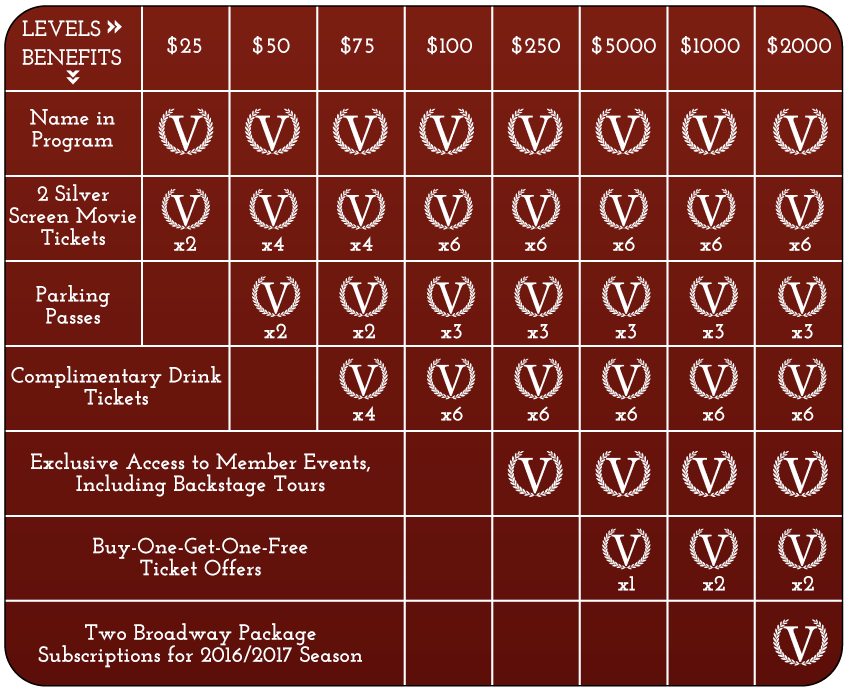 Yes, I Want to Support the Valentine!
If donating by check, please mail to:
The Valentine Theatre, 410 Adams Street, Toledo, Ohio 43604.
Purchase an Engraved Paver on "The Boulevard of Stars"
Make a lasting impression on our "Boulevard of Stars." By purchasing a granite paver, you will leave your mark for future generations to come. Granite pavers in the Valentine Theatre Plaza are a highly visible way of showing your support to the Valentine. Contact Jori Jex, The Toledo Cultural Arts Center, 419.242.3490 ext. 14.
Pavers are available in three sizes:
Small Granite Paver - $250 (5" x 15")
Medium Granite Paver - $500 (10" x 15")
Large Granite Paver - $1000 (15" x 15")
Purchase a Seat at The Valentine
For $2,500 or more, your name will be inscribed on a plaque affixed to a seat in the Theatre, becoming a permanent and visible sign of your commitment to the arts. The Valentine can accept pledges for seats and they can also be paid in installments.
* Membership, sponsorship, engraved pavers & seats are tax deductible less the value of any goods, services, or discounts received.